COCKTAILS
Welcome to Orange Beach (the Martini, That Is)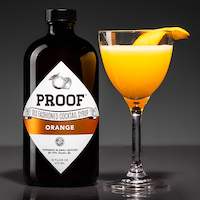 This cocktail delivers big orange flavor thanks to Cointreau, OJ, and Orange Proof Syrup
So when we mixed up this delicious cocktail with our latest flavor — Orange Proof Syrup — we thought we'd dedicate it to the Alabama coastal town we're heading to next month: Orange Beach. Enjoy! 
Orange Beach Martini
½ oz Orange Proof Syrup
2 oz Vodka
1 oz Cointreau
2 oz Fresh Orange Juice
Orange Twist Garnish
Shake all ingredients with ice; strain into a chilled Martini or Nick & Nora glass.