COCKTAILS
The Mojito's Long, Muddled (Albeit Delicious) History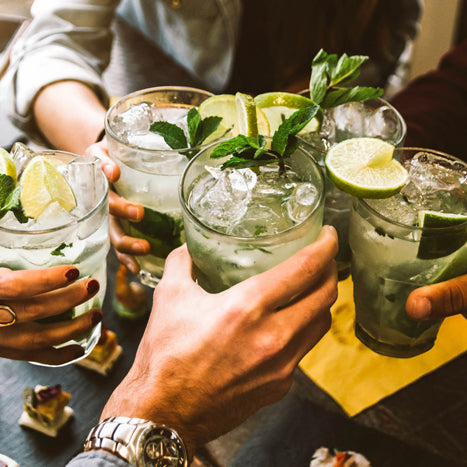 by Franklin Kennamer
One of the best ways to take your mind off the summer heat is with a cool, refreshing cocktail. And few quintessential summer drinks have survived the test of time, and humidity, better than the minty-sweet mojito. With its unique combination of flavors, cheap (if not hassle-free) ingredients, and plenty of ways to play with the recipe, the mojito has enjoyed worldwide popularity for decades. But how much do you actually know about this cocktail from Cuba?
The History
The one thing one can say for absolute certain about the mojito's history is that it's long. The cocktail has been around in one form or another since at least the late 1500s, which might make it the oldest known cocktail. All by itself, that's impressive. But tracing pre-colonial history can be complicated, so the true origin of the mojito has been, and still is, debated.
Enter the Draque
One (highly suspect) origin story: The mojito was "invented" by English sea captain Sir Francis Drake in the late 16th century, when he and his crew landed in Havana intent on plundering Spanish booty and in miserable need of medical attention.
This much is true: In 1586, after many weeks at sea, Drake and his crew were in rough shape. Scurvy and dysentery were rampant, leaving the crew in no condition to steal from the Spanish. Upon arriving in Cuba, they sought help from the locals and were provided limes, mint, cane sugar, and aguardiente, a locally produced spirit whose name literally means "firewater." All that tracks with what we know about actual history.
Here's where it gets sketchy: These ingredients — most of them native to Cuba, and well known to locals for, well, as long as there were locals — were then supposedly combined by Drake himself to create "El Draque,'' a mojito precursor.
Cool name for a cocktail, but the notion that Sir Drake invented this drink himself is pretty questionable. The ingredients are native to the Caribbean, the firewater/aguardiente distilled there by locals. Seems likely the combination of mint, lime, sugar, and booze was an indigenous tonic that Drake, or his crew, or historians, simply credited to him.
The Mojo Theory
Another theory posits that slave labor was integral in the mojito's development. Spain began colonizing Cuba in 1511 and importing enslaved people from Africa in 1526. In need of energy while toiling in the sugarcane fields, enslaved workers would drink guarapo, a juice squeezed from sugarcane. Because the enslaved population was a mix of Africans and indigenous peoples, the drink evolved as traditions and libations were shared, eventually becoming an alcoholic beverage.
The drink may have originally been called "mojo," an African word meaning "to place a spell." After growing in popularity around the island, Spanish influence would have likely renamed the drink "mojito," a variation of the word "mojadito," which means "a little wet."
How the Rum Happened
Whether English pirates or enslaved field workers invented this proto-mojito, neither of these theories addresses a key question: When did rum replace aguardiente?
Enter Facundo Bacardí, a Spanish businessman.
Rum distilleries were popping up in the Caribbean by the early 18th century, but it wasn't until 1862 when Bacardí bought his first distillery in Cuba that he changed the rum game with rapid fermentation.
Bacardí could also be considered one of the world's first influencers, sans the smartphone, as he labeled his bottles and personally signed them, an uncommon practice at the time. Being the savvy businessman that he was, Bacardí likely had a hand in the mojito's adoption of rum. A new cocktail is good for business, after all.
Regardless of its origin, the mojito has become a Cuban national beverage thanks to many different influences and events over centuries. In a similar fashion, the journey to global recognition as a delicious, refreshing cocktail didn't happen overnight, either.
The Mojito's North American Popularity
With beautiful beaches, a tropical climate, and rum for days, it's little surprise that Cuba drew many tourists in the early 20th century. Luckily for libation lovers, Cuban bars were ready to serve authentically local mojitos. The Caribbean party really got started in the 1920s thanks to Prohibition.
The Roaring 20s would have had a lot less roar without booze, and Havana saw an influx of tourists when bars closed in the United States. American bartenders even migrated to Cuba to find work and open their own bars, some of which were responsible for bringing Cuban bar culture and cocktails, like the mojito, to new popularity.
One of the first known references to the mojito by that name is in the 1932 menu from Sloppy Joe's Bar. Another famous bar, La Bodeguita del Medio, was a popular destination for celebrities like Nat King Cole and Ernest Hemingway.
Hemingway deserves some credit for the mojito's popularity. While living just outside Havana from 1939 to 1960, Hemingway frequented two bars — La Bodeguita del Medio and El Floridita. La Bodeguita del Medio is known for its mojitos and even today proudly displays a handwritten note that reads, "My mojito in La Bodeguita. My daiquiri in El Floridita." La Bodeguita del Medio claims the note was written and signed by Hemingway, but much like the history of the mojito's origin, the authenticity of the quote is debated. Whether fact or fiction, the celebrity endorsement solidified the mojito's fame.
The mojito's American popularity hit a rough patch after the Cuban revolution in 1959. There was a rapid decline in tourism as the U.S. cut diplomatic ties and the mood toward Cuba in the 1960s was awkward, to say the least. With Prohibition and the Great Depression very much in the rearview mirror, Americans were gladly returning, legally, to bars closer to home or mixing their own drinks.
Trends come and go, and as Americans were realizing how difficult it is to mix mojitos from scratch, it appeared the Cuban cocktail would be let go.
The Mojito Makes a Comeback
The mojito owes its resurgence in part to 1980s Hollywood. "Scarface" in 1983 and "Miami Vice" in 1984 triggered an interest in the culture of Miami, a city with strong Cuban influences. Tony Montana said it best on the beach with a drink in his hand: "This is paradise, I'm tellin' ya."
Beyond the '80s, moviegoers have continued to witness popular characters enjoying mojitos — perhaps most notably James Bond. In the 2002 film "Die Another Day," Bond sips on a mojito before making a pass at Halle Berry's character. If the mojito is good enough for the international superspy, apparently it's good enough for the world. The scene sparked an immediate mojito revival.
Synonymous with Cuba and tropical beaches, this cross-cultural cocktail remains popular around the world. It was listed at #10 on Drinks International's list of the world's best selling cocktails in 2021 and #9 on VinePair's list of 50 most popular cocktails in the world in 2022. The mojito is perhaps most popular in Europe; among the more than 20% of pubs and bars in Britain that serve cocktails, in 2014 the mojito was the most popular.
Making a Mojito
Bar patrons the world over seem to love the mojito, but the process of making one leaves a sour taste in many bartenders' mouths. It's not a difficult cocktail recipe, per se, but if you don't have all the ingredients right there, ready to go, mixing mojitos is a pain: muddling mint, squeezing limes, the whole ordeal. It's not a cocktail most bars enjoy making in large numbers, as it's the sort of recipe that tends to bog down service.
The whole process is drastically shortened by using Mojito Proof Syrup. Available for the first time this month, Mojito Proof Syrup contains the mint, lime juice, and sugar — just add rum, shake, pour, and top with club soda for a perfect mojito.
Unless you're a rabid mojito originalist, there are many delicious different twists and turns the recipe can take from there. For example, you could muddle in some fresh fruit, like mango or strawberries, or a couple slices of cucumber. Some like a ginger ale topper in place of club soda. No matter which route you choose, the destination will be refreshing.
About the Author
Franklin Kennamer is a communication specialist, content strategist, podcast aficionado, bookworm, and storyteller.