COCKTAILS
The Moscow Mule and Its Pack of Relatives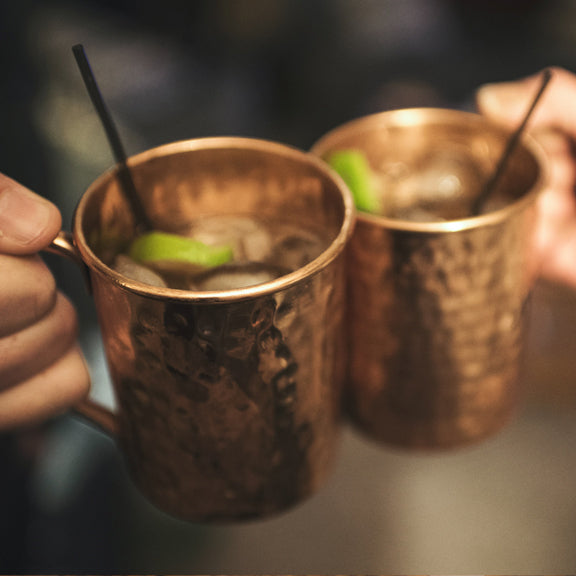 by Franklin Kennamer
You know a Moscow Mule when you see it — the iconic copper mug, piled high with crushed ice. You also know what you're getting — a refreshing, easy cocktail with a kick. But there's more to the drink than a simple recipe in a fun drinking vessel. It's a cocktail with a history worthy of a Hollywood film and a cinematic universe full of variations.
The History
The Moscow Mule's rise in popularity in the 1940s is intriguing for several reasons. For starters, vodka was virtually absent in American bars and homes because it was seen as a Russian spirit; it was much more patriotic to drink whiskey. The U.S. didn't even recognize the Soviet Union until 1933 — so why would Americans drink its signature spirit?
Contrary to what the name suggests, the Moscow Mule is actually a product of American capitalism, not Russian communism. And if Prohibition proved anything, it was that legality won't stop Americans from drinking. So, what's a little red scare?
Drinking On Brand
When Prohibition ended, the novelty and excitement of the not-so-secret speakeasy gave way to familiarity. Publicity was the new name of the game, and big brands had the means to increase recognition and solidify loyalty among their American consumers. Many American distillers, however, had difficulty reopening their doors in the 1930s; even Jack Daniel's remained shuttered until 1938. Then another barrier to booze arose as most American production, including alcohol, shifted toward the war effort in the 1940s. This created a business opportunity for anyone willing to think outside the whiskey barrel for new brands to sell.
Breathless in Hollywood
In 1939, John G. Martin, president of the food and drink distributor Heublein, took advantage of the vodka vacuum. Martin bought a Smirnoff vodka distillery in Connecticut and the rights to sell the name. Now, the only question was how to sell it to Americans.
As a clear, generally odorless spirit, vodka was marketed as a healthier option and even as a "white whiskey" that doesn't leave a trace on your breath. The "Smirnoff Leaves You Breathless" campaign was particularly effective with Hollywood stars, who often had movie contracts that prohibited drinking. Joan Crawford is said to have thrown parties where everything was served with a splash of vodka. But while sales were good for Martin on the West Coast, he had more profitable aspirations.
Red Scare, Copper Courage
One of the best ways to sell brand-specific liquor is by mixing it in a cocktail — just ask Facundo Bacardí.
In the 1940s, the story goes that Martin met with his friend John "Jack" Morgan, owner of the Cock 'n' Bull restaurant in LA, at the Chatham Hotel in New York. Just as Martin had Smirnoff he needed to sell, Morgan had a surplus of ginger beer. By putting their business minds, and woes, together, they killed two birds with one tart kick and concocted the Moscow Mule.
The cocktail was likely dubbed the "Moscow Mule" as a nod to Smirnoff's hometown, but the copper mug could have also played a pivotal role. In some versions of the origin story, a third vendor, potentially a Russian immigrant and saleswoman, needed to push their own surplus — copper mugs. However the mug came into the picture, it played a pivotal role in Martin's marketing scheme, forever linking the cup with the cocktail.
Taking two Polaroid photos of a bartender holding a Moscow Mule in a copper mug, Martin left one photo at the bar and took the other with him. Like a true salesman, Martin went bar to bar preaching about a new, popular cocktail served with Smirnoff in a copper mug, showing his Polaroid as proof. Pics or it didn't happen, as they say. The Moscow Mule quickly galloped across the United States, bringing Heublein a substantial profit and introducing Americans to the joys of vodka-based cocktails, despite a Cold War with the Soviet Union.
Pop Culture
From secrecy to the screen, just as the celebrities of old were partly responsible for introducing vodka on the West Coast, Hollywood continues to play a role in the Moscow Mule's popularity. Netflix's Orange is the New Black titled the eighth episode in the first season "Moscow Mule." Hulu's The Great illustrates a fictional retelling of the cocktail's origin. But perhaps most symbolic of the cocktail's merit is its multiple appearances in Better Call Saul, in which the cocktail is enjoyed during lunch with partners and peers.
Variations
Historically, cocktails served with a spirit, any citrus juice, and either ginger ale or ginger beer would fall in the buck family of cocktails, like the Irish Buck and Kentucky Buck. The Moscow Mule, however, has become so popular around the world that the "buck" nomenclature has essentially been replaced by "mules."
Mules can serve many different functions on the farm, so it follows that the cocktail should have the same versatility. For anyone interested in venturing outside of Moscow, there are a number of delicious mule variations to be enjoyed.
Kentucky Mule
Replacing vodka with bourbon, the Kentucky Mule will have you ready to run a derby. It's important to note, however, that the Kentucky Mule is specifically bourbon whiskey. Using scotch makes it a Glasgow Mule, rye makes a Rye Mule, and so on.
London Mule
Also known as the Gin-Gin Mule, for its gin and ginger beer ingredients, this variation is often served in a Collins glass. For a unique complement to the juniper notes of London dry gin, try garnishing with blackberries or grapefruit.
Jamaican Mule
The combination of ginger beer with spiced rum makes the Jamaican Mule one of the more fiery variations. Spice lovers looking for extra sizzle can add a splash of hot sauce and garnish with jalapeno slices.
Mexican Mule
With some more inspiration south of the border, the Mexican Mule substitutes tequila. For a smokier taste, use mezcal. Try topping it off with a splash of triple sec and garnish with mint sprigs.
Further Info for the Mule-Curious
At Age 75, the Moscow Mule Gets Its Kick Back
How America Fell in Love with Vodka
Advanced Mixology: How the Moscow Mule Went from Obscurity to Iconic Cocktail
'The Great' on Hulu: How Was the Moscow Mule Really Invented?
About the Author
Franklin Kennamer is a communication specialist, content strategist, podcast aficionado, bookworm, and storyteller.