COCKTAILS
The Cosmopolitan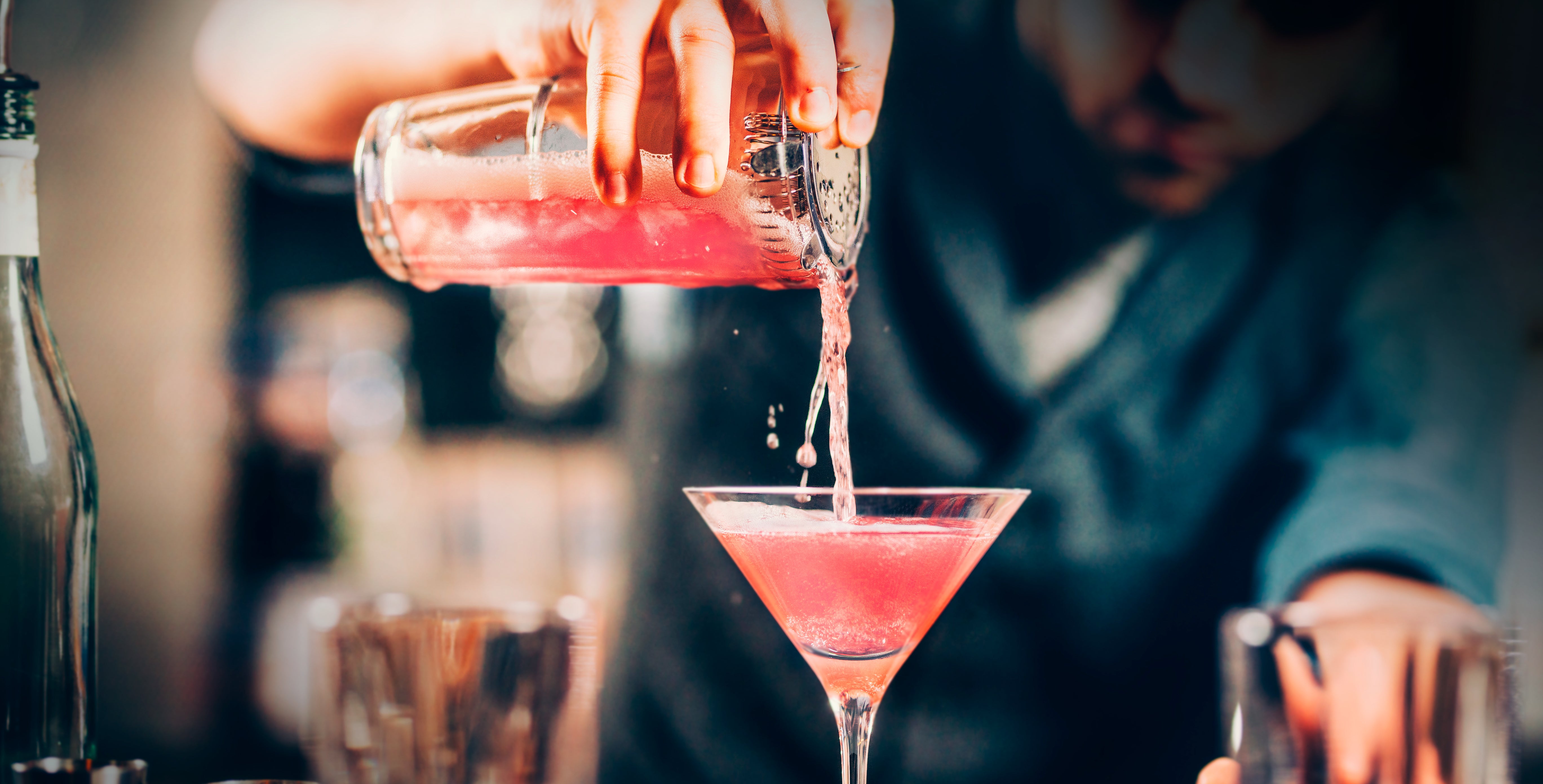 Exploring the colorful history of the pointy pink drink
by Franklin Kennamer
In his book Cosmopolitan: A Bartender's Life, Toby Cecchini writes, "To a bartender, you are what you drink." 
If you were to order the cosmopolitan at Cecchini's Long Island Bar in Brooklyn, you might be expressing that you're an individual of international sophistication and discerning taste.
You might be expressing a fondness for simple, strong vodka cocktails.
You might dislike martinis but enjoy martini glasses.
Or maybe you just love 1990s rom-coms (or a specific 1990s rom-com).
Whoever you may be, you ordered a drink that counts among the very few true modern classics. Here's what we know about this tart, boozy, just-barely-fruity vodka cocktail.
History
Compared to other American classic cocktails, like the Old Fashioned and sazerac, the cosmopolitan is a relatively new arrival, which makes its rise to fame all the more impressive. 
The earliest known reference to a cocktail by that name is the "cosmopolitan daisy" found in a book from 1934 titled Pioneers of Mixing at Elite Bars 1903–1933, but the recipe is much different from the cosmo we know. This old-timey daisy features raspberry syrup and gin, making it a little closer to a Clover Club than a cosmo. The modern iteration that we enjoy today developed in the 1980s — which, on aesthetics alone, makes all of the sense.
Cranberry in the Big Apple
Cecchini and his colleague Melissa Huffsmith-Roth are widely credited with inventing the cosmo during their time at Manhattan's Odeon bar in the late 1980s. However, Cecchini himself explains in his book, "Perhaps it's better to say I reinvented it." Huffsmith-Roth showed Cecchini a drink, called the cosmopolitan, that was made for her in San Francisco, which featured vodka, grenadine, and Rose's Lime in a martini glass. Cecchini liked the presentation but saw room for improvement.
Cecchini replaced Rose's Lime with fresh lime juice, swapped grenadine with a dash of cranberry juice, and added Cointreau to cushion the citric blow. His decision to specifically use Absolut Citron was a reflection of the times, as flavored vodkas were fresh on the scene. The reinvented cosmo was initially mixed for the Odeon staff only, but word got out, as it does, and the pretty pink tide washed over New York City.
"I think there are a few things that gave the drink its wings: that alluring pink color," Cecchini explained in an interview with industry mag Chilled. "The fact that it was presented in a martini coupe … certainly its name, and the timely ingredients — citrus vodka and Cointreau."
Love Hangover
An artist needs inspiration from somewhere, and it's not surprising that San Francisco supplied that liquid inspiration to Cecchini and Huffsmith-Roth. The Bay Area has long been a flashpoint for important developments in American bar culture. Notably, Jerry Thomas, author of The Bar-tender's Guide (1876), perfected his craft at the El Dorado saloon in San Francisco, where he created the Blue Blazer — a drink more concerned with presentation than taste (a critique sometimes lobbed at early versions of the cosmo).
Flash forward to the 1970-80s and San Francisco saw a little extra flair in its nightlife. With the sexual revolution and the LGBTQ movement came changes in attitude toward gender roles, sex, and romance. Love is love and alcohol may help you love a little more, even for just one night. With all this sexual tension bursting into the public sphere, singles ready to mingle needed a place to go. Fern bars rose to the occasion, aptly named for their decorative houseplants intended to make patrons feel at home.
There was a demand in these establishments for brighter, sweeter, and sexier cocktails. Martinis were popular, or rather holding a martini glass was popular, but experimentation, of all kinds, was encouraged. The Lemon Drop, for example, was a direct product of a San Francisco fern bar. It's not a stretch to imagine the idea for the cosmo arose from this evolutionary period, but the exact history is marred by a few competing theories.
Heavy Is the Cosmo Crown
One juicy theory underscores Ocean Spray. In 1968, in an effort to market their product to adults, Ocean Spray printed a recipe for the Harpoon on the label, which called for vodka, lime juice, and cranberry juice. Perhaps Ocean Spray's marketing campaign collided with fern bar culture to create the proto-cosmo, with Rose's Lime Juice and grenadine, that Huffsmith-Roth enjoyed before bringing it to Cecchini.
Another theory, from legendary bartender and cocktail historian Gary Regan, points to Cheryl Cook, a bartender in Miami. Regan contends that Cook invented the cosmo in 1985, after playing around with the Kamikaze.
Bartender John Caine, however, claimed to be mixing cosmos in Cincinnati and Cleveland for years before opening a bar in San Francisco in 1987. Could this have been Cheryl Cook's creation? Caine is credited with at least popularizing the drink in San Francisco, which would be around the time Huffsmith-Roth visited the city. Whether from Miami or the Midwest, San Francisco was an important stop on the cosmo's journey before heading to the Odeon in New York.
Carrie and the Cosmo
After the social upheaval of the '70s and '80s, there was a growing demand for mainstream media to push beyond the strictly male gaze. From 1994 to 1996, author and journalist Candace Bushnell wrote a column in The New York Observer about her personal dating experiences. These columns became the basis for an HBO romantic comedy-drama TV series that explored the romantic and social lives of four women in New York City — the perfect revolutionary premise for introducing the world to a sexy city cocktail.
Sex and the City debuted in 1998 and the first season averaged 6.9 million viewers and received multiple award nominations for best new comedy series. Such acclaim inevitably delivers real cultural influence. Just as the main character, Carrie Bradshaw, became a fashion icon, the show also glamorized drinking cosmopolitans on girls night. Soon after the cocktail was introduced in the second season, it became a staple of the show and a fan favorite.
The cosmopolitan had already gained subcultural popularity in New York City and San Francisco by the late 1990s, but Sex and the City is responsible for catapulting the cocktail onto menus across the country and the world. Even after the original HBO series came to an end in 2004 and a subsequent film poked fun at the cosmo craze, the drink has stuck around. Proving it wasn't just a pink fad, the cosmopolitan has earned a spot on the Drinks International list of the world's best-selling cocktails in 2022.
Concocting a Cosmo
Just as a cosmopolite is a citizen of the world who appreciates different cultures, the cosmopolitan is a cocktail with plenty of room for creative freedom. You can play around with different flavored vodkas, replace triple sec with another liqueur, or give it a splash of your favorite fruit juice. It's a relatively simple drink, several pours and a good shake, made even simpler with Cosmopolitan Proof Syrup.
One of the most intriguing variations, the Porn Star Martini, could be considered an homage to the sexual revolution that gave rise to the cosmo: just shake ¾ oz Cosmopolitan Proof Syrup with ice, 2 oz vanilla vodka, and ¼ oz Compassion Fruit Proof Syrup, strain into a martini glass, and (if you're so inclined) serve with a shot of sparkling wine on the side.
Our current favorite variation: 2 oz vodka, ¾ oz Cosmopolitan Proof Syrup, ¼ oz elderflower liqueur. Shake with ice, strain into a martini glass, and serve. It's still very much a cosmo, with a light floral aroma and flavor. When it comes to mixing your own cosmo, let your imagination soar and enjoy your reinvention.
About the Author
Franklin Kennamer is a communication specialist, content strategist, podcast aficionado, bookworm, and storyteller.