COCKTAILS
The Wisconsin Old Fashioned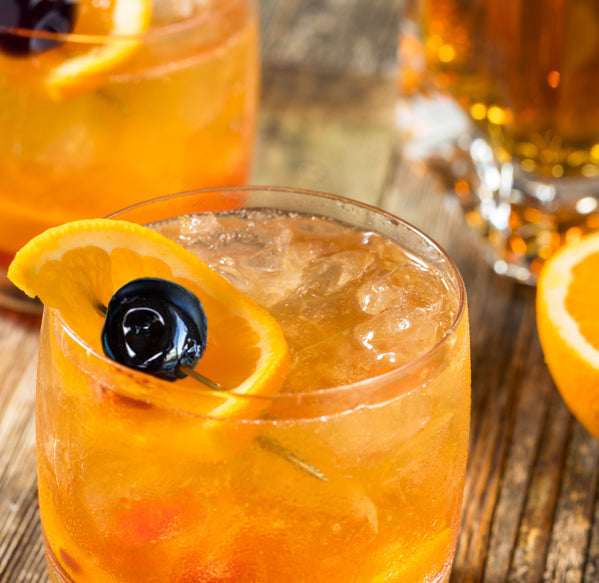 This is a most unusual Old Fashioned — but in Wisconsin, it's a generations-old tradition
In the United States, local cocktails are often a point of regional pride — sometimes because of the cocktail, sometimes in spite of it.
In New York, there are the Manhattan and the Long Island Iced Tea. Sail over to Massachusetts for the Boston cocktail and the Cape Codder. Down South, you'll find the sazerac, mint julep, hurricane, and Alabama Slammer, memorably described by Punch as "adolescent liquor cabinet raid turned recipe."
And if you swing on up Wisconsin way, the locals will have you try their "official" state cocktail they'll swear is a thing: the Old Fashioned.
That's what they call it, anyway — but it's not the Old Fashioned you're probably picturing. The Badger State's spin on the traditional Old Fashioned features brandy, muddled orange slices, and a splash of either citrus soda or club soda, sometimes both. And in place of the slice of orange peel you'll find pretty much everywhere else, in Wisconsin they top it all off with an additional orange slice and cherries — or, for the bravest (or tipsiest?) of adventurers, pickled mushrooms or Brussels sprouts.
It all sounded weird to us, but this recipe's got history — and a whole stateload of devoted fans — behind it. That deserves respect, and a fair hearing.
Backstory: a Brief History of the Wisconsin Old Fashioned
How did a state known for beer and cheese give birth to such a distinctive cocktail? As the history of our country would suggest, waves of immigration heavily influenced local culture as folks brought their foreign tastes from overseas. 
Wisconsin was a popular destination for German immigrants; Milwaukee in particular is considered one of the most German cities in America. As Germans arrived in the mid-19th century, they brought their love of beer, bratwurst, and brandy with them.
When Korbel featured its brandy at the 1893 World's Fair in Chicago, German Wisconsinites were more than happy to bring the brandy back to the Badger State. The spirit spread across the state like sauerkraut on a reuben and soon replaced whiskey in the traditional Old Fashioned. To this day, Wisconsin is the largest consumer of Korbel in the U.S.
The evolution of the brandy Old Fashioned continued from there. During Prohibition, the ban on alcohol failed to stop the good times from flowing; good liquor, on the other hand, got harder to come by. Hard up for decent spirits, folks applied "old-fashioned" American ingenuity to the situation, using sugar, syrups, mixers, and fruit to hide the taste of whatever cheap booze they could get (or make). This is why so many classic cocktails were born during the Prohibition era, and for Old Fashioned drinkers in Wisconsin, the traditional orange peel grew into an entire slice, and maraschino cherries added a little extra sweetness. The rest is history.
How Do You Make an Authentic Wisconsin Old Fashioned, Anyway?
Want to drink an Old Fashioned like a true cheesehead? You can either make a trip to America's Dairyland or mix it yourself. Here's how: 
Wisconsin-Style Old Fashioned
Ingredients
2 oz Brandy (Korbel is the WI standard, but any light-bodied brandy will do.)
2 or 3 Orange Slices, About ⅛" to ¼" Thick
Cherries (We use Luxardo.)
1 Splash Club Soda (Recommended), 7UP, Sprite, Squirt, or Similar
Steps
Drop one or two orange slices and one cherry into a rocks glass. Pour in the Proof Syrup, then muddle thoroughly, taking care to mash up only the pulpy, juicy part of the oranges. (If you involve the orange rind, your cocktail will be bitter.)
Fill glass with ice (leaving the muddled fruit right where it is) and pour in the brandy.
Top with soda or club soda and give a quick stir.
Garnish with a final orange slice and cherry.
It's important to note that there are likely as many ways to mix this cocktail as there are drinkers in Wisconsin. The recipe provided here is as close to consensus as we were able to find.
We did make one change we're going to be stubborn about: the cherries. If neon red grocery store cherries are the standard in Wisconsin, well, too bad. We went fancy on cocktail cherries many years ago, and we're not going back. We recommend Luxardos, or another premium dark cherry, in this and every other cocktail calling for them.
Do We Like the Brandy Old Fashioned?
Yeah, we do — though it's not likely to enter our regular rotation, it is refreshing in the same way that a strong bourbon and Coke is refreshing. It's the type of cocktail one might enjoy with a meal as opposed to before, and everybody needs a couple of those in the stable. 
Once we got over the disconnect between the name and the results, this recipe made a certain sense — this is booze and soda with a smash-like muddle at the bottom, and there's not a thing wrong with that. Just don't mix this up expecting a classic Old Fashioned. This is a different cocktail.
If you enjoy a sour, smash, Gold Rush, or other whiskey-based cocktail that's got more going on ingredients-wise than the traditional bourbon-sugar-bitters Old Fashioned, you'll have fun with this drink. It's a cocktail experience worth having, wherever you call home.
Do You Have a Favorite Regional Cocktail?
We totally want to try it out. Send the particulars — ingredients, including brand names if they matter, plus any special directions or compelling backstory — to recipes@proofsyrup.com.