Craft the Perfect Cocktail
Better cocktails start with better ingredients. Perfect cocktails start with Proof Bitters.
Shop Now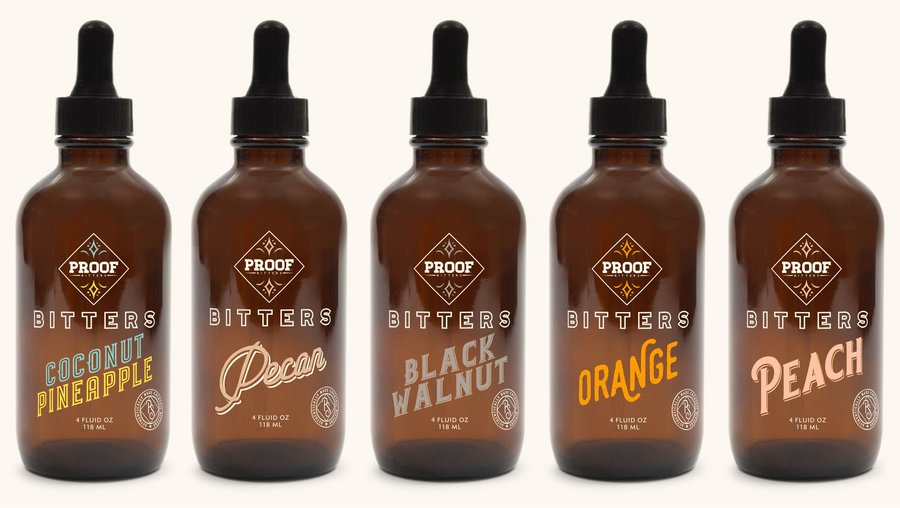 In a word: flavor. Made from spices, fruits, nuts, herbs, and other botanical ingredients, Proof Bitters balance and amplify a cocktail's components, creating a seamless, flavorful whole from distinct elements. Bitters complete the cocktail, and they are indispensable.
Handmade and small-batch, Proof Bitters combine time-tested, traditional bitters ingredients in novel ways to produce a truly unique cocktail experience.
The Finest Locally & Globally Sourced All-Natural Ingredients
Top-Quality Fruit, Nuts, Herbs & Spices
Handmade in Small Batches
No Artificial Sweeteners, Flavorings, or Preservatives, Ever
We mix, prepare, and bottle every batch of Proof Bitters by hand, in our hometown of Atlanta, Georgia.
Here are our three favorite ways to use Proof Bitters — but there are many more! Check out our blog for more great bitters ideas.
Method #1: Mixed into Cocktails
Mix 2-3 dashes of Proof Bitters into an Old Fashioned, manhattan, mai tai, negroni, or other cocktail.
Method #2: As a Garnish
Sprinkle 1-3 dashes of Proof Bitters atop a whiskey sour (or any cocktail made with egg white) to add aroma, color, and flavor.
Method #3: With Soda & Citrus
Fill a tall glass with ice, drop in 2-5 dashes of bitters, top with club soda, and garnish with a citrus wedge for a refreshing low-alcohol cocktail.
Shop Now
5 Ways to Elevate Your Cocktails
Add flavor, complexity, and balance to your cocktails with Proof Bitters. Incredible in Old Fashioneds, tiki cocktails, manhattans, martinis, sours, and numerous other fine libations, Proof Bitters are the unique, premium bitters experience you've been looking for.
We steep real peaches with aromatic spices and earthy, bittersweet gentian root to create these balanced, warmly spiced bitters. The result is a fresh, subtle fruitiness that's incredible with aged spirits and wine-based cocktails. We're loving these bitters in Old Fashioneds, sours, and champagne cocktails.
Coconut-Pineapple Bitters
We steep coconut and fresh pineapple with a unique blend of Asian and Caribbean spices to produce the distinctly tropical flavor of these bitters. They're perfect for tropical, tiki, beach and summer cocktails, rum cocktails of all kinds, and a tall, refreshing bitters and soda.
The key ingredient in these bitters? Time. We slow-roast black walnuts, then steep them with aromatics for six weeks to create nicely spiced bitters with a cocoa-like sweetness and the slight earthy fruitiness characteristic of black walnuts. These bitters are perfect for both aged and distilled spirits.
To create these bitters, we start by slow-roasting Georgia pecans to draw out their natural sweetness. Over the next few weeks, they're steeped in alcohol, stirred, and tasted and re-tasted to create perfect pecan bitters. Delicious in classic and tropical cocktails, our pecan bitters are a perfect fit with bourbon, rum, and other aged spirits.
These are no ordinary orange bitters. By combining organic orange peel with a proprietary mix of spices, we created flavors that are exotic and distinctive, yet homey, warm, and inviting. Enjoy in your cocktail of choice, or with club soda and an orange wedge over ice.
Shop our 5-flavor bitters set during this exclusive pre-sale.
Includes a 4 oz bottle of each flavor
*Proof Bitters will start shipping at the end of June
*Proof Bitters will start shipping in mid-June