COCKTAILS
BBQ Cocktails that Go Great with Barbecue — and Some Barbecue Recipes to Get You Started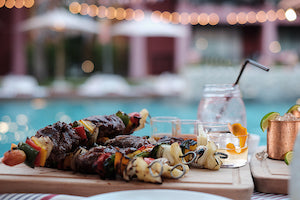 Planning a cookout? Hosting a pool party? Our in-house barbecue expert Brian Carson has you covered, with some crowd-pleasing cookout recipes and cocktails that pair perfectly with spicy, smoky food.
What's On The Menu?
Cocktails: Mexican Firing Squad, Moscow Mule, Mezcal Old Fashioned
Food: Bacon-Wrapped Chicken with Bourbon BBQ Sauce, Arugula Salad with Grilled Peaches and Sherry Vinaigrette
Cocktail Recipes
Mexican Firing Squad
Ingredients
2 oz Tequila
¾ oz Lime Juice
2-5 Dashes Angostura Bitters
Lime Wheel to Garnish
Steps
Shake tequila, Proof Syrup, lime juice, and bitters with ice.
Strain into ice-filled rocks glass.
Garnish with lime wheel.
Moscow Mule
Ingredients
Steps
Shake vodka, Proof Syrup, and lime juice with ice.
Strain into ice-filled copper mug.
Garnish with lime wedge and serve.
Mezcal Old Fashioned
Ingredients
2 oz Mezcal
Orange Peel to Garnish
Steps
Stir mezcal and Proof Syrup in a mixing glass with ice.
Strain into ice-filled rocks glass and garnish with orange peel.
Variations
If you find mezcal — or the mezcal you have on hand — too intensely smoky, try one of these options: (1) use 1 oz mezcal and 1 oz tequila; or (2) use 2 oz tequila in the cocktail and about 1 teaspoon of mezcal to rinse the rocks glass before adding ice.
Barbecue Recipes
Bacon-Wrapped Chicken Thighs (4 servings)
Ingredients
8 Boneless Skinless Chicken Thighs, Trimmed to Square Off
16 Slices of Bacon
Steps
Season each piece of chicken with salt and pepper, going easy on the salt.
Lay two pieces of bacon slide by side on a cutting board, stretching them out a bit so that they are long enough to wrap the thigh.
Lay a thigh on top of bacon and wrap the bacon around, overlapping the ends slightly. Secure with a toothpick. Repeat for the remaining chicken thighs.
Grill over medium heat, 6 minutes per side, keeping an eye on the bacon so it doesn't burn.
Brush each thigh with Bourbon BBQ Sauce and cook over low heat 2 additional minutes per side.
Bourbon BBQ Sauce
Ingredients
½ can Tomato Paste
1 cup Bourbon
¼ cup Molasses
1 tsp Garlic Powder
1 tsp Freshly Ground Black Pepper
½ cup Brown Sugar
½ cup Ketchup
¼ cup Hot Sauce (Like Texas Pete's)
Steps
Brown the tomato paste in a saucepan over medium heat until dark in color.
Deglaze the pan with the bourbon and continue to cook until mixture reduces by half, about 6 minutes.
Add the molasses, garlic powder, black pepper, brown sugar, ketchup and hot sauce and cook over medium-low for 15 minutes until the flavors have come together.
Season with salt to taste.
Arugula Salad With Grilled Peaches (4 servings
Ingredients
5–7 oz Fresh Arugula, about 4–6 cups
3 Firm/Slightly Underripe Peaches
Steps
Grill the peaches: Using a sharp knife, halve the peaches by making one cut around the circumference of the fruit, all the way down to the pit. Twist the peach to separate halves, then remove the pit with the tip of a knife.
Lightly brush the peaches with olive oil and season with salt. Set aside for a few minutes, until droplets of juice come to the surface.
Place peaches cut side down over medium heat on the grill and grill for 5 minutes.
Remove from heat and set aside.
Assemble the salad: Place 4 cups of washed and dried arugula in a large bowl.
Slice the peach halves into segments, approximately 6-8 per peach half.
Place peaches on arugula and season lightly with kosher salt and freshly ground black pepper.
Dress with sherry mustard vinaigrette and serve.
Sherry Mustard Vinaigrette
Ingredients
1 shallot
2 garlic cloves
1 tbsp Dijon Mustard
½ c Sherry Vinegar
½ c Extra Virgin Olive Oil
Steps
Combine shallot, garlic, mustard and vinegar in blender jar (or bowl, if using immersion blender).
Pulse until smooth, then slowly pour in the olive oil and blend until emulsified. Drizzle over salad.